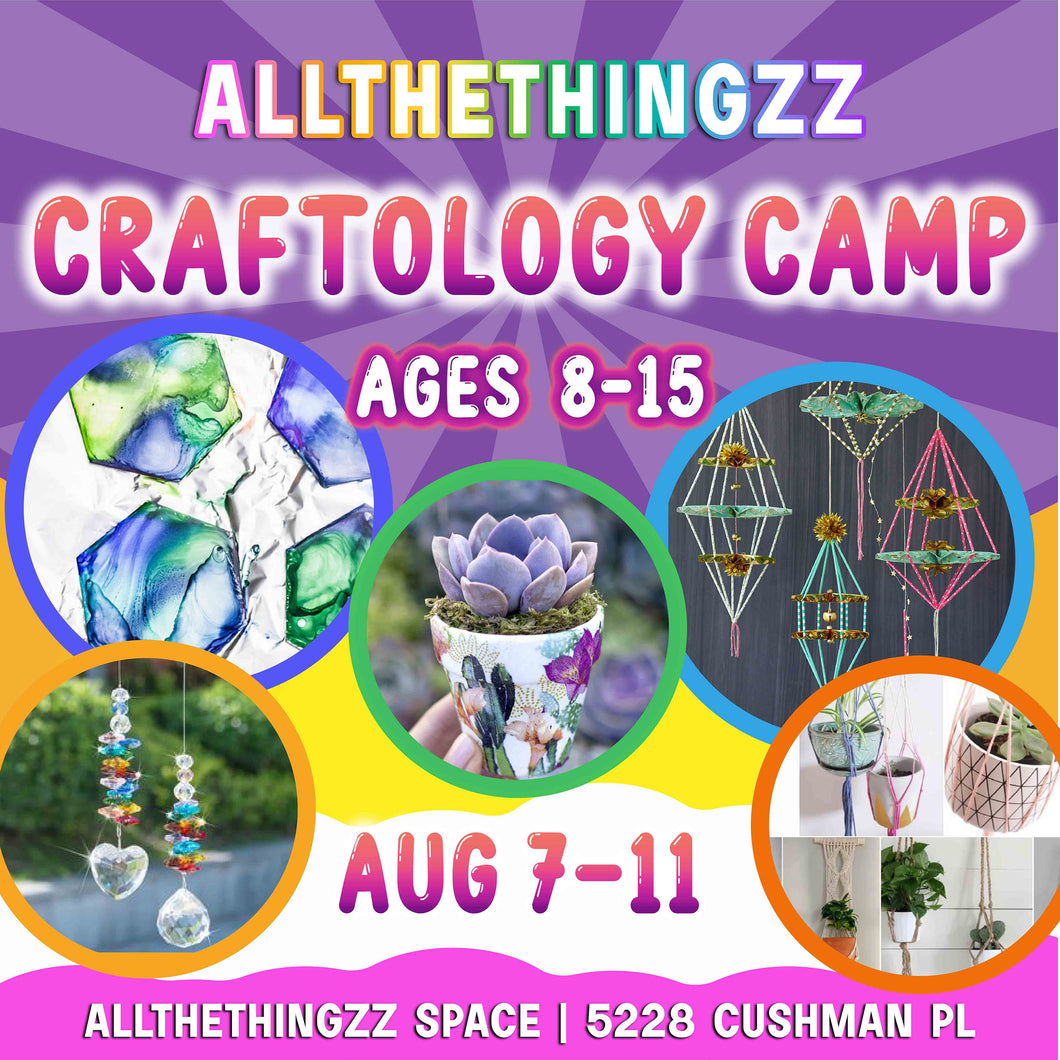 Craftology Summer Camp 8/7-8/11
Regular price $200.00 Sale
CAMP DESCRIPTION:
Get ready for an unforgettable week of artistic exploration at Craftology Summer Camp! Our camp is designed for kids ages 8-15 who are eager to dive into the world of crafting and unleash their creativity.
From macrame to decoupage, jewelry making to paint pouring, our campers will have the opportunity to try their hand at a variety of hands-on crafts led by our experienced instructors. We will explore various art concepts, materials, and techniques. Campers will make a different crafting product each day to bring home, each valued at $20+. These "etsy worthy" creations will give kids a sense of achievement and allow them to take pride in their work building their confidence and encouraging them to use their creativity in all aspects of life.  
At Allthethingzz Space we believe in promoting sustainability and environmental consciousness through upcycling and repurposing materials, teaching campers valuable skills while also fostering an appreciation for the environment.
Additionally, campers will take home their very own set of tools and supplies ($40 value), so they can continue their crafting adventures and practice their new skills long after camp is over.
CAMP SESSIONS AVAILABLE:
MORNING SESSION is 9am-12pm  AFTERNOON SESSION is 1pm-4pm
*SPECIAL FULL DAY OPTION AVAILABLE*- these campers will be given opportunity to take their craft product to the next level, try out advanced techniques, or make a second product all together!
*SIBLING DISCOUNT OFFERED- use discount code "sibling" to get $50 off
REGISTRATION INSTRUCTIONS:
Add desired session to cart. In the notes of checkout include your name, your child's name and age, your phone number and email address. You will receive a confirmation text/email upon payment and then a couple weeks before camp a detailed schedule of activities for each day and drop-off, pick-up instructions. 
QUESTIONS? Happy to answer all questions and offer flexible solutions to your schedule needs- send me (Catherine) an email at allthethingzz@gmail.com or a text at 804-370-5546